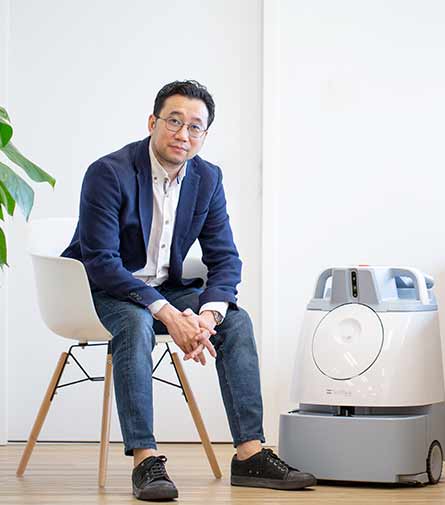 Chin Yau Lee, Asia-Pacific Chief Operating Officer
People often associate AI, robotics, and automation with an idea that these technologies will perform the tasks which were only limited to humans, thereby replacing them in the workforce. Headquartered in Tokyo, SoftBank Robotics is on a mission to change this preconceived notion. The company believes robots are created to collaborate with human beings, by augmenting human efforts and enhancing productivity, as robots are ideal to perform repetitive, mundane, and laborious tasks efficiently. As per statistical reports from the International Federation of Robotics (IFR), in 2019, the global robotics market reached $29.41 billion, and service robots accounted for 32 percent of it. The service robot market size in 2018 increased by about 43.9 percent compared to 2017. By 2020, the rapid development of the market size of parking robots, supermarket robots and other service robots is expected to exceed $4 billion. Keeping ahead of these promising trends, SoftBank Robotics focuses on creating robotic solutions to benefit people's day-to-day lives. "We always focus on exploring ways to optimize robotics for driving higher efficiency and productivity, while easily co-existing with people in spaces," states Chin Yau Lee, APAC COO at SoftBank Robotics Singapore (Asia-Pacific Headquarters). By relentlessly leveraging the latest advancements in AI and robotics, the company aims to augment human workforce and automate most of the laborious, time-consuming tasks across manifold industries such as retail, tourism, healthcare, finance, education, facilities management and cleaning. With an unbridled vision, the organization is continuously exploring and commercializing robotics solutions that help make people's lives easier, safer, more connected, and more extraordinary. There are currently over 35,000 units of SoftBank Robotics robots—namely Pepper, NAO and Whiz, deployed in more than 70 countries worldwide.
Lee believes that the corona virus pandemic has given the company a lot of insights into how robotics would move into the future. "With people looking forward to more automation and self-service environments, we are ready to address all those demands with our robots," adds Lee. Hospitality is just one such example among increasing industries looking to adopt robotics solution since it has been severely impacted due to COVID-19.
The most persistent challenge confronting the hotels amidst the fallout of the pandemic is managing the turn-around time for cleaning. The timespan for turning around bed sheets, wiping the tables, cleaning restrooms, and vacuuming the floor is doubled and tripled at the moment. The staff are paying a copious amount of attention to sanitization processes, coupled with the need to ensure a minimum standard of cleanliness across the corridors and common areas. In these state-of-affairs, Whiz, a robot developed by SoftBank Robotics is re-inventing the commercial cleaning industry, with breakthrough AI navigation technology. It is simple to use and simple to set up—the hotel staff needs to just teach a cleaning route to Whiz, and press the start button. Thereafter, Whiz learns all the cleaning routes powered by BrainOS, the award-winning commercial robot operating system from Brain Corp, that determines the best path given the surrounding environment and cleans up to 1,500 square meters per charge. Equipped with multiple sensors detecting obstacles, stairs, and human movement, Whiz autonomously avoids people, glass walls, cliffs, and other hazards. Comprising of both autonomous and manual modes, Whiz can take the floor care cleaning load off, and thereby increase capacity for the on-site crew. At the same time, Whiz provides real-time notification alerts when the job is done, and also delivers robust cleaning performance data that can easily be shared with critical stakeholders.

SoftBank Robotics first conducts an assessment on the suitability of the customer's facility for Whiz deployment by conducting a pre-questionnaire followed by presenting an actual Whiz Proof of Concept. These POC experiences allow them to gain further insights into customers' requirements and challenges and develop a 'people-first' approach to designing and developing robots that ultimately empower and benefit humanity. A 4-star Singapore hotel was looking for suitable robotics solutions to complement its workforce and drive efficient operating workflow. By deploying Whiz, the hotel was able to sanitize a voluminous total gross floor area of 2700 square meters, and more than 400 rooms, while saving 486 minutes per day, which is also equivalent to $1856.75 per month.

While Whiz is transforming the professional cleaning industry, Pepper, a humanoid robot created by SoftBank Robotics, is becoming the new face of healthcare industry. His facial-recognition software lets him recognize patients on sight, and gauge their moods too. Pepper responds to verbal cues and gestures from doctors, nurses and patients—without the need to press a button. Ever since Pepper was launched, SoftBank Robotics and its partners have been continually exploring new ways to use Pepper in digital health applications while other AI companies are also looking forward to benefiting from the bots' ability to process reams of health data with incredible speed and accuracy. Apart from Pepper and Whiz, another tremendous robot created by SoftBank Robotics named NAOhas become a standard in education and research.

As Whiz has been named the Silver Winner for 2020 Edison Awards, along with SoftBank Robotics Hong Kong being crowned with Anti-Epidemic Technology Product Award under HK Retail Technology Innovation, and Best Global Brand under South Korea Consumer Association, SoftBank Robotics is poised for global market expansion. Targeting the emergent opportunities in the commercial cleaning industry in the post-pandemic situation, SoftBank Robotics is focusing on its robotics portfolio to equip and empower humans to adjust to the new norm. Additionally, the team at SoftBank Robotics is keeping an eye on the aging population across Singapore, Hong Kong, South Korea, and China, which is a rising issue at hand, and are willing to automate a multitude of tasks for the aging workforce with its innovative product line. "In line with SoftBank Robotics' vision—'The power of Robotics to benefit Humanity', we will continue to develop robotics solutions that will automate and accelerate business performance and delivery," sanguinely concludes Lee.